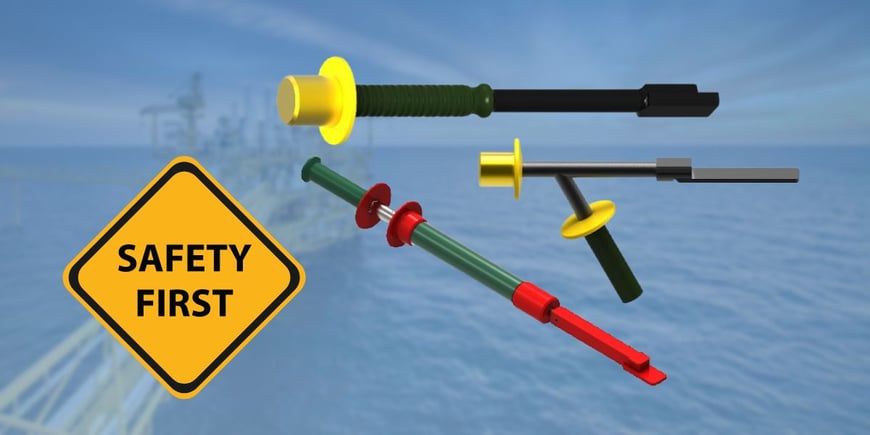 Lets dive into the unique advantages of Keystone Energy Tools' Hammerless Tong Die Driver over traditional straight and angled varieties, and explore how it streamlines operations, promotes safety, and fosters longevity.

Why Hammerless Tong Die Driver from Keystone Energy Tools Have the Advantage
You're hammering away at a nail on a lazy Saturday afternoon, installing some shelving you've been meaning to put in the kitchen for months, and suddenly, your aim is off and you've just hammered your fingers. Doesn't feel great. But we've all been there. And it's significantly worse when you're hammering a driver rather than a nail.
Cleaning and redressing manufacturing die slots takes a lot of hammering, and that's why there are tong die drivers. They reduce hand injuries caused by inadvertent hammer blows, and the brass components prevent sparks and flying chips.
Tong die drivers are such simple, mundane tools that you may never have stopped to consider that they come in more than one variety. In fact, tong die drivers come in three varieties: straight, angled, and hammerless (a Keystone Energy Tools special), each with its own advantages and disadvantages.
1. Straight Tong Die Driver
The most basic type of tong die driver, the straight tong die driver is a mainstay for die slot redressing. Much like a sword, It has a handle and handguard to prevent hammer blows from deflecting towards the grip. The straight tong die driver is the easiest to use, and requires the least application of pressure, but is also the least safe.
The Keystone Energy Tools straight tong die driver comes in 1 ¼" (A26-300) and 1" (A26-310) varieties. Both weigh in at a light 7.25 lbs.
2. Angled Tong Die Driver
The angled tong die driver is the second safest of the three tong die driver options, as the grip is at an angle to the perpendicular tong. Both the tong's tip and handle have brass guards. Due to the mechanics of the grip, it's actually harder to keep the angle tong die driver in place, but the added safety may be well worth the tradeoff.
The Keystone Energy Tools angled tong die driver comes in 1 ¼" (A26-350) and 1" (A26-360) varieties. Both weigh 9.25 lbs, 2 lbs more than the straight tong die driver.
3. Hammerless Tong Die Driver
The hammerless tong die driver is the most recent innovation. It includes a slide hammer encased in a cylinder to prevent sparks and flying objects. It is by far the safest and most efficient of three options.
What are the benefits of the Hammerless Tong Die Driver over the Straight Tong Die Driver and Angled Tong Die Driver?
The benefits include safe one-person operation, which eliminates hand injuries caused by hammer blows. Another benefit is its replaceable driver heads. The hammerless driver weighs less than a standard driver and hammer combined.
The Keystone Energy Tools Tong Die Driver comes in 1 ¼" (A26-425) and 1" (A26-426) varieties. Both weigh about as much as the straight tong die driver.Additional benefits are:
Safe and simple one-person operation
Eliminates hand injuries
Gripping surfaces are coated to dampen vibration and protect the hands
The required operating motion is instinctive, making use much safer
Longer tool life and improved injury prevention saves time and money
Replaceable heads available for both 1" and 1-1/4" die slots
30-day money back guaranteed
If you have a question about any of our three tong die drivers, or would like to see them in action, please contact us today.
Why Choose Keystone for Your Tong Die Driver Needs?
Keystone Energy Tools delivers superior quality equipment, competitively priced, ensuring your operations run smoothly and safely. Our Hammerless Tong Die Driver, like all our tools, embodies our commitment to creating the most dependable oilfield tools in the industry. We prioritize our customers, responding to inquiries and quote requests with prompt, practical solutions.
Reach out to our Sales Team today for further information and experience the Keystone difference firsthand.
---
About Keystone Energy Tools

Keystone Energy Tools is a manufacturer with over fifty years of combined experience in designing, manufacturing, and delivering high-quality oilfield tools, including elevators, slips, dies and inserts, tongs dies, safety clamps, stabbing guides, drill pipe float valves, baffle plates, float valve pullers, rotating mouseholes, and tong blocks.
By using the latest in 3D modeling for product design and by staying current with the rapid advances in manufacturing technology and quality-assurance standards, Keystone is able to manufacture and produce the most reliable products on the market today. All Keystone Handling Tools are manufactured according to API 8C and API 7K Standards.