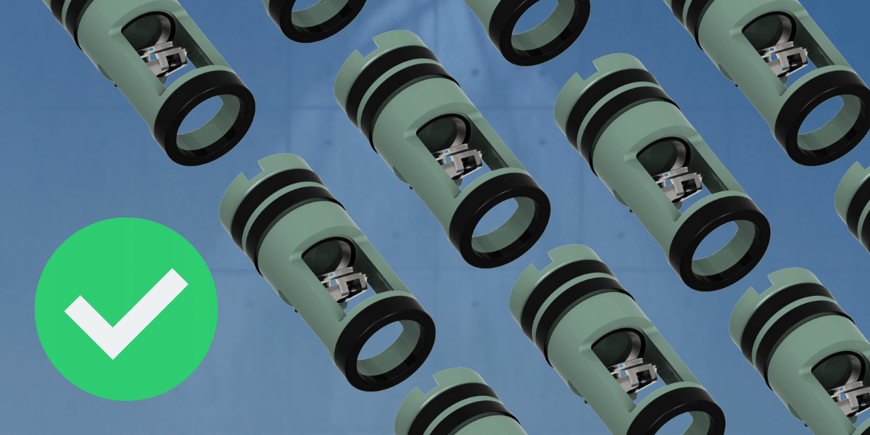 Often, we get calls from rig supply companies saying they need Baker drill pipe float valves.
For these folks, we have good news and bad news.
The bad news: Baker float valves don't exist anymore. The good news: Keystone makes a Baker®-style valve that improves on the original.
The Baker® drill pipe float valve was THE float valve of choice for many years. That's who originated it and built it first.
What you need to know about Baker® drill pipe float valves
By the 1990s, a few other oilfield tools manufacturers started making them. But for many, the Baker® brand was the only one they would use, and Baker® SPD was the leading manufacturer of drill pipe float valves in the industry. In 2006 Baker Hughes® sold off Baker SPD® and quit making Float Valves.
So, there is an education gap there, and we find ourselves explaining to the customer that there IS no Baker® drill pipe float valve any longer.
But there's good news. The Baker® brand was well-loved due to its quality production and superior engineering, construction, and dependability. And today that quality has been matched—and exceeded— with the Keystone Energy Tools line of float valves. These valves are manufactured with alloy steel, integral cages & plungers to produce the most reliable float valve on the market today.
The Keystone Energy Drill Pipe Float Valves
We make a Baker®-style drill pipe float valve that is better than the original.
For example, we use a better-quality spring and better materials throughout. Inconel® or stainless-steel springs come standard on all Keystone valves and are significantly more resistant to corrosion when compared to standard service springs provided by most other manufacturers.
Keystone valves come with certifications (traceability).
Keystone started stenciling each float valve with an independent serial number and a work order so we can trace the origin.
Keystone also offers private labeling on its Float Valves.
Other benefits
Other benefits of Keystone Float Valves:
All Flappers are investment cast and then case-hardened for wear resistance.
Elastomers available are Nitrile Butadiene (NBR /Buna N) and Viton® (Fluoroelastomer / FKM).
All KET Float Valves, baffle plates, and valve pullers are interchangeable with the Baker® Style Model F, and Baker® Style Model G Float Valves.
High- and Low-pressure test charts available upon request at placement of order.
One of the big advantages we have is it's a lot easier to do business with us. A customer calls us at 10 in the morning or 2 in the afternoon, it's going to get shipped the same day.
Keystone can be trusted to get you the right parts on time.
Keystone's Full Line of Float Valves
At Keystone, we recognize the severity of drilling with a reliable and trusted valve - float valves are essential for drilling and must stand the test of harsh environments.
Finding the best fit for every individual project is important, and the different types of drill pipe float valves go beyond just the split between the F-type plunger valves and the G-type flapper valves.
Learn more about our line of Baker Drill Pipe Float Valves today.
---

Related Articles
9 Types of Drill Pipe Float Valves
Drill Pipe Float Valve Size Chart and Installation
---

About Keystone Energy Tools

Keystone Energy Tools is a manufacturer with over fifty years of combined experience in designing, manufacturing, and delivering high-quality oilfield tools, including elevators, slips, dies and inserts, tongs dies, safety clamps, stabbing guides, drill pipe float valves, baffle plates, float valve pullers, rotating mouseholes, and tong blocks.
By using the latest in 3D modeling for product design and by staying current with the rapid advances in manufacturing technology and quality-assurance standards, Keystone is able to manufacture and produce the most reliable products on the market today. All Keystone Handling Tools are manufactured according to API 8C and API 7K Standards.