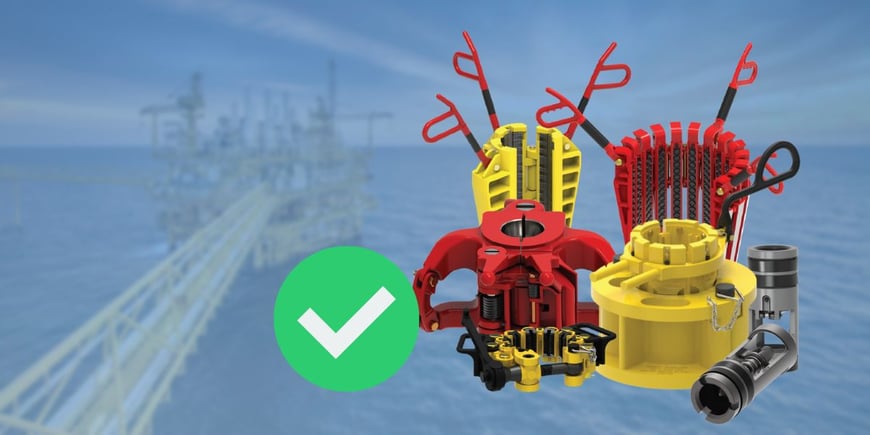 Oilfield service companies need to keep their equipment in top working condition to minimize production downtime and optimize profits. Keystone Energy Tools is your source for reliable and affordable oilfield equipment supplies and repairs. We carry a wide range of products, including tools, parts, and accessories, to help you get the job done right.
Here's more on about Keystone Energy Tools and how we can help.

Your Oilfield Equipment Suppliers
Keystone Energy Tools is a manufacturer with over 75 years of combined experience in designing, manufacturing, and delivering high-quality oilfield tools, including elevators, slips, dies and inserts, tongs dies, safety clamps, stabbing guides, drill pipe float valves, baffle plates, float valve pullers, rotating mouseholes, and tong blocks.
By using the latest in 3D modeling for product design and by staying current with the rapid advances in manufacturing technology and quality-assurance standards, Keystone is able to manufacture and produce the most reliable products on the market today.
With our years of experience of bridging the gap between quality and service, customers and distributors, and performance and economy, Keystone understands critical requirements of the oil and gas industry, from on-time delivery to competitive pricing and product availability.
History
Keystone was created in 2009 by Joe Ramey, founder of Access Oil Tools. Our focus is to build long-term relationships with our customers and distributors and to provide them with quality products and service with one phone call or e-mail.
The float valve product line was established in 2009, and in 2011 our product line was expanded to include elevators, slips, rotating mouseholes, safety flex handles for slips, safety handles for tongs, safety clamps, baffle plates, valve pullers, ST-80' dies and inserts, stabbing guides, tong die drivers, tong blocks, beckets and bails, and automated slip-lifting devices.
Why Choose Keystone?
Keystone is known for reliability, affordability, and customer service. We offer some of the best equipment on the market, built with only high-grade materials. Our promise is to always put our customers first by responding quickly to questions or requests for quotes.
We respond because we believe customers are our greatest value and nothing is stronger than loyalty.
Buy Tools You Can Trust!
We design and precision-machine all of our tools to meet and exceed API Standards, with KET and the API monogram stamped on our equipment, you can be sure you are getting high-grade equipment at a competitive price, made in the USA. All Keystone Handling Tools are manufactured according to API 8C and API 7K Standards.
Upon purchase of our handling tools, customers receive proof of load test, MPI, and material and heat-treatment certifications included with their data packets.
Oil Field Tools Services
Keystone offers a variety oil field tools services including: equipment re-certification, load testing and rotating mouse-holes remanufacturing. With years of experience in manufacturing elevators we offer one of the most knowledgeable teams in elevator remanufacturing along with re-certification. Our Load testing facility is available for testing all elevators and spiders. As a manufacturer of Rotating mouse-holes we provide complete in-house remanufacturing of your rotating mouse-hole tool.
Equipment Re-Certification
Our recertification services include equipment inspection, disassembly, repair, parts and component upgrade/remanufacturing; as well as, assembly modifications, and documentation (including, but not limited to, reports for API, ABS, ISO and DNV).
Data books are delivered with the equipment, consisting of a
COC stating it was repaired to API 8C/8B
Proof or performance load test
MPI report
Dimensional inspection data
Our re-certification services keep your business running effectively and up to industry standards.
We specialize in giving life back to your equipment and tools, regardless of age, size, or condition.
All equipment is brought in to one of our shops and completely disassembled and thoroughly inspected to enable us to get you back up and running.
Our technicians are able to build your component back to OEM specifications.
Our load testing facility is available for testing elevators, spiders, slips and bowls – with ratings up to 750 tons.
Keystone Energy offers load testing to determine load carrying capabilities of equipment, components, and parts. There are two types of load testing, proof load testing and performance load testing.
Load Testing Determinations
Performance Load Test – verifies the function of the equipment by loading it up to, but not exceeding, the rated load of the equipment under test and can be multiple cycles
Proof Load Test – is required to certify new equipment and remanufactured equipment by loading the elevator 1.5x its rating for a period not less than 5 min. and only one cycle followed by a surface NDT no earlier than 24 hours.