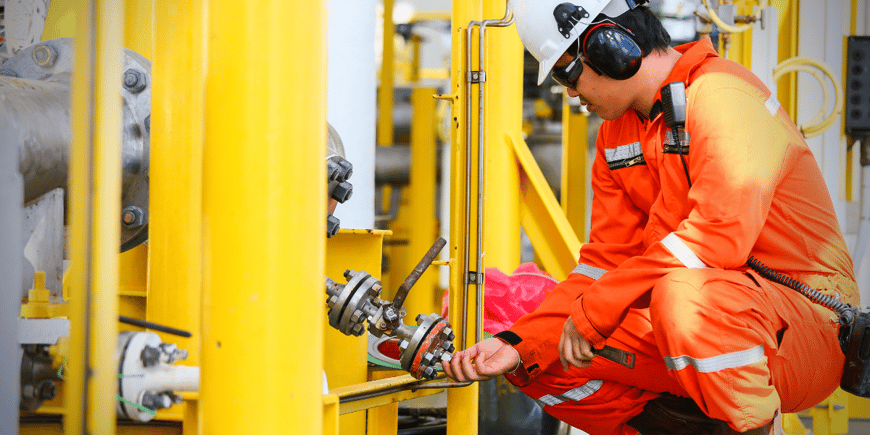 Repair and maintenance are essential to mitigate corrosion, increase safety and reliability, and reduce expenses long term.
Oil and gas companies cannot rely on constantly rising oil and gas prices to make their projects sustainable. That does not mean profitability is not obtainable, but rather that it will come (at least in part) from increasing efficiency rather than increasing productivity.
This means that oil and gas industry companies must find ways to improve the efficiency of their assets and operations (like using industrial cleaning), in order to reduce costs and remain competitive. In terms of efficiency improvements, no project is more important than equipment maintenance, especially for expensive equipment such as drill pipes and elevators.
Equipment maintenance is not just a must, but it is also a significant economic opportunity. When done well, companies can obtain the operational efficiency needed to navigate through volatile oil markets by extending the life of their equipment.
What is oilfield equipment maintenance?
Oilfield equipment maintenance services are the processes of preparing, maintaining, and restoring equipment before, during, and after oilfield production. Each phase of tasks is carefully handled to maintain the equipment, structures, and surrounding areas to fully operable safe conditions.
Conducting oilfield equipment maintenance enables the prevention of property loss/damage and the necessary equipment to protect all employees offshore.
Risks and causes
When it comes to equipment maintenance, extending operation beyond design life presents safety risks (including injuries), business risks, and operational challenges.
These risks affect significant business decisions and need to be quantified and managed as companies strive for continuous operations of aging equipment assets. Aging equipment may present increased challenges in maintaining equipment integrity, and therefore, will have to be managed accordingly.
The causes of aging equipment could be due to different degradation and risks over time, including the following:
Degraded materials due to corrosion
Erosion, wear or cracking
Equipment becoming obsolete, leading to potential lack of spares, or high cost of spares
Changes to engineering codes and standards

Lack of proper operation of equipment and materials


Why equipment repair and safety are essential
Equipment repair and maintenance are essential in order to keep projects running smoothly, reliable and dependable.
Preventative equipment maintenance is key to extending equipment life and ultimately saving you time and money. While the common perception may be that preventative maintenance is unnecessary, the reality is that without it, users are often left with more expensive repairs.
1- Increased productivity
When equipment runs efficiently, projects get done on or ahead of schedule. Staying on top of the "optimal, like-new condition" is key to maintaining that level of equipment efficiency. When maintenance suffers, efficiency suffers too.
When efficiency suffers, so does your bottom line.
Poor maintenance strategies can reduce an organization's production capacity by 20 percent. Modern preventive maintenance solutions allow operational managers to digitize essential equipment details, assign recurring work orders and review asset history.
2- Damage prevention


Preventive maintenance ensures all business equipment assets are running according to manufacturer guidelines. As poorly performing parts are updated, assets perform at a steady level of productivity throughout the year. This reduces the frequency of capital expenditures needed to purchase new equipment.
3- Increase safety


The more often assets are checked, the less likely dangerous problems like offshore fires occur. Businesses that follow preventive maintenance schedules reduce the risk of unexpected breakdowns, health hazards and injuries, and liability lawsuits.
4- Reduce expenses
While it may seem like it does not make sense to spend the time and money to have equipment inspected or repaired, the reality is waiting is going to cost even more. Bigger, more complex repairs come with bigger price tags.
Unsurprisingly, reactive maintenance downtime contributes to costly repairs. Using equipment to the point of failure may cost 10X more than performing periodic maintenance. Sometimes, those repairs can be accomplished quickly by internal employees. Other times, organizations must wait on outsourced professionals to get the job done.
Equipment repair by Keystone Energy
We specialize in giving life back to your equipment and tools, regardless of age, size, or condition (including drill pipe elevators).
All equipment is brought into one of our shops and completely disassembled and thoroughly inspected to enable us to get you back up and running.
Our technicians are able to build your component back to OEM specifications as well as recertify most equipment.

Related Articles
Top 10 Trends Shaping the Oil and Gas Industry - Let's explore 10 of these trends that are transforming the outlook of the oil and gas industry for 2021 and beyond.
What are the challenges that Slim Hole Drill Pipe has on elevators? - Slim Hole drill pipe creates some unique challenges for the lifting capacity on Elevators. Let's dive into the details.
Introducing the Keystone Slip Type Elevators - Keystone offers Y Series Slip Type Elevators. The Y Series Elevators are center latch, tubing elevators made to catch collar type or integral joint tubing.


---
References
Maintenance Management of Aging Oil and Gas Facilities -
https://www.intechopen.com/books/maintenance-management/maintenance-management-of-aging-oil-and-gas-facilities
The Ultimate Preventive Maintenance Guide: Nearly Everything You Need to Know - https://www.getmaintainx.com/what-is-preventative-maintenance/
---

About Keystone Energy Tools

Keystone Energy Tools is a manufacturer with over fifty years of combined experience in designing, manufacturing, and delivering high-quality oilfield tools, including elevators, slips, dies and inserts, tongs dies, safety clamps, stabbing guides, drill pipe float valves, baffle plates, float valve pullers, rotating mouseholes, and tong blocks.
By using the latest in 3D modeling for product design and by staying current with the rapid advances in manufacturing technology and quality-assurance standards, Keystone is able to manufacture and produce the most reliable products on the market today. All Keystone Handling Tools are manufactured according to API 8C and API Standards.