At Keystone, we recognize the severity of drilling with a reliable and trusted valve - float valves are essential for drilling, and must stand the test of harsh environments.
Our valves are precision manufactured from high-grade materials and perform optimally in drilling environments. We offer valves for all drilling applications.
Keep reading to see why Keystone's float valves are leading the industry when it comes to quality and dependability.
What Separates Keystone's valves from the rest of the Industry?
We understand the critical requirements of the oil and gas industry and the need for high-quality tools and parts. Our equipment is manufactured from quality materials acquired from trusted vendors and are designed and precision-machined to meet and exceed API standards.
Keystone provides Certified, Pressure-Tested float valves. As a leading manufacturer of float valves, we know the severity of drilling with a reliable and trusted float valve; therefore, we offer certified float valves that are serialized.
Additionally, we will provide certification of high-and-low pressure tests upon request.
Our cages, caps and flappers are manufactured from heat-treated stainless steel and made with durable Elgiloy springs, Viton elastomers.
Keystone's coil tubing float valves can operate under a working pressure of 10,000 psi.
All KET Float Valves are manufactured with alloy steel integral, cages & plungers to produce the most reliable float valve on the market today.
All KET Float Valves, baffle plates, and valve pullers are interchangeable with the Baker® Model F, and Baker® Model G Float Valves.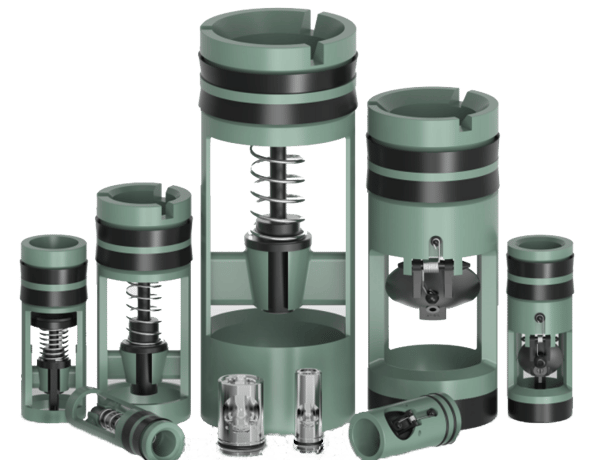 All of Keystone's plunger valves are machined from one solid piece of material to produce a more reliable float
valve and reduce the risk of down hole valve failure.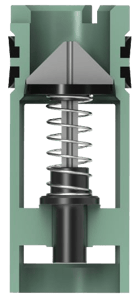 Our Plunger-Type Float Valve models include:
All Keystone standard-service flapper valves are made of low-alloy steel and then case hardened for wear resistance,
thus giving a longer operating life.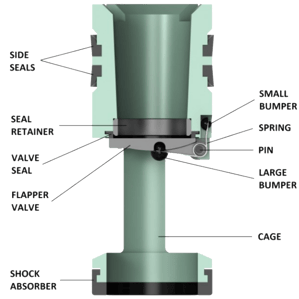 Our Flapper-Type Float Valve models include:
What are some of the spec details of Keystone's drill pipe float valves?
Unique Valve Body
Keystone cages are manufactured for today's increasingly harsh drilling environment. All cages are cast out of alloy steel and are heat treated to a hardness equal to or less than 22 Rockwell C (≤ 22 Rockwell C 2 HR) to address the corrosive effects of hydrogen-sulfide gas (H2S).
Keystone's integral cages are manufactured from one-piece casting, and are not welded together the way some other competitors produce their cages. Therefore we deliver a superior and more reliable valve cage.
For highly corrosive environments we offer stainless steel & Nickle Plated valves.
Spring Options
Elgiloy, Inconel® or stainless steel springs come standard on all our valves.
These high alloy springs are good for sour gas (H2S) applications and are significantly more resistant to corrosion when compared with the standard-service springs provided by most other manufacturers.


Broad Elastomer Options
Available elastomers are nitrile butadiene (NBR, Buna-N) and Viton® (fluoroelastomer, FKM)(H2S Applications) and Aflas (steam service).
Standard Service Buna Nitrile (212 Deg F) Temperature Rating
Hi-Temp Viton (450 Deg F) Temperature Rating
H2S Service Viton (450 Deg F) Temperature Rating
Steam Service Aflas (475 Deg. F.) Temp rating


Great Interchangeability
All Keystone drill-pipe float valves and replacement parts are manufactured to standard industry dimensions and are interchangeable with other major manufacturers' parts.
All KET Float Valves, baffle plates, and valve pullers are interchangeable with the Baker® Style Model F, and Baker® Style Model G Float Valves.


Operating Pressure
For Standard valves - 7,500 PSI working pressure
For High pressure valves - 10,000 PSI working pressure


Sour-Gas (H2S) Service Option
Available in both F and G models.


Want to learn more about
Keystone's Drill Float Valves or Replacement Parts?
---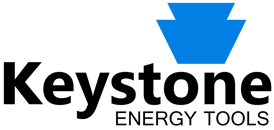 Keystone Energy Tools is a manufacturer with over fifty years of combined experience in designing, manufacturing, and delivering high-quality oilfield tools, including elevators, slips, dies and inserts, tongs dies, safety clamps, stabbing guides, drill pipe float valves, baffle plates, float valve pullers, rotating mouseholes, and tong blocks.
By using the latest in 3D modeling for product design and by staying current with the rapid advances in manufacturing technology and quality-assurance standards, Keystone is able to manufacture and produce the most reliable products on the market today.