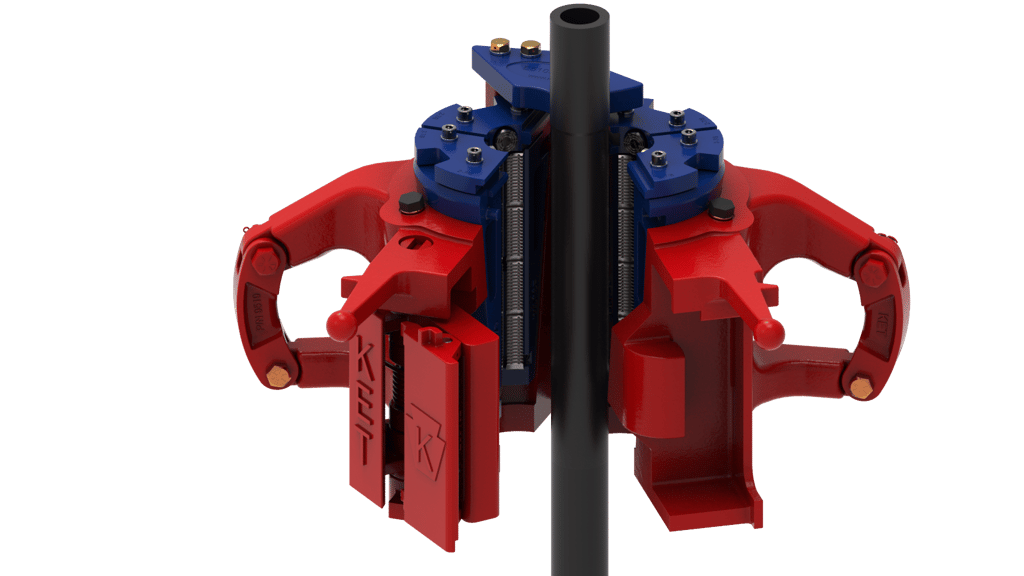 The Dawn of the Slim Hole Slip Type Elevator.
Roll out the red carpet for the new Slim Hole Slip Type Elevator.
Keystone Energy Tools has designed the optimal tool for small diameter slim hole drill pipe. Lift nubbins are no longer the only option for running small diameter slim hole (SDSH) drill pipe . The Slim Hole Slip Type (SHST) elevator allows for running SDSH drill pipe without the frustration of lift nubbins.
The SHST elevator's new design grips the pipe with retractable inserts, which set the slips on the tube wherever the elevator is latched.
Experience the efficiency of running SDSH drill pipe with KET's new slip type elevator.
Why the Slim Hole Slip Type?
When running SDSH drill pipe such as 2 ⅞ PAC there were few options. Due to the slight transition between the tube, the upset and the tool joint, conventional slip type elevators were not an option.
Conventional slip type elevators set on the pipe once the setting plate makes contact with the tool joint. Being set on SDSH drill pipe, the inserts would make contact with the upset and the tube causing uneven die-contact with the pipe. This possibly crushing or cutting the pipe.
Lift nubbins were the solution for running SDSH drill pipe. Using them is labor intensive, and making them up for every joint of pipe consumes valuable time. Since "time is money," the days of using lift nubbins is limited.
Apart from lift nubbins and the use of square shoulder elevators, few options have existed for SDSH operations.
Until now.
The SHST: Small Diameter Slim Hole Pipe Solution
Running pipe efficiently is the name of the game.
Either produce or you are out! Promising victory when running SDSH pipe, the SHST redefines EFFICIENCY!
Available in MYT, YT, and HYT Elevators, with capacities of 40, 75, or 150 Tons, the SHST is packed with 4 retractable inserts and 4 interlocking setting plates.
The latest Interlocking plate technology ensures the slip sets and bites evenly on the pipe as the retractable inserts engage the tube when closing the elevator.
The SHST will not disappoint, adding efficiency and safety to your operation.
How can the new SHST Elevator improve your operation?
What separates conventional elevators from quality elevators?
Contact Keystone and talk with a salesman today!