As a manufacturer of a variety of Drilling Elevators, we thought that it might be helpful to share with you everything that we think you might want to know about Side Door SLX Series Elevators.
About Side Door SLX Series Elevators
Side Door SLX Series Elevators are used to maneuver drill collars and casing. Side Door SLX Series Elevators can generally handle all types of casing up to 42 inches. And, their load rating ranges from 65 to 500 tons.
Unlike Square Shoulder and Bottleneck Elevators which close at the center, SLX Elevators have their doors positioned to the side. In order to prevent the elevator from accidentally opening during operation, there are some safety redundancies including a latch, safety latch, and safety pin which is attached with a cable that is affixed to the elevator.
To open the elevator; remove the safety pin, pull the latch lock handle outward, and pull open the two elevator halves.
API Certified Equipment
To ensure that you are receiving a quality elevator it is highly recommended that you only buy API certified equipment. The American Petroleum Institute (API) licenses "Drilling and Production Hoisting Equipment" manufacturers under API Spec 8C, which covers elevator links, tubing and drill pipe elevators, sucker rod elevators, spiders (if capable of being used as elevators) and various other types of handling tools.
API is a globally recognized certification and licensing leader in various industries, and also has extensive experience licensing and certifying regular elevators as well. Any manufacturer with the API seal of approval is compliant with API standards and has the proven capability to manufacture to API Product Specification Requirements.
Purchasing equipment from a supplier with API Certification ensures you are buying quality equipment that meets API industry standards.
Routine Inspection Of Side Door SLX Series Elevators
Of all the tools on a drilling rig, elevators are one of the most stressed pieces of equipment. Due to this, they require regular inspection. KET's operation manual lays out the necessary inspections that must be performed for optimum performance.
There are 2 types of inspections the MRA and TMA Operating manual advise--daily inspections and inspections every 6 months.
Proper Elevator Inspection
Visually inspects for cracks, loose fits or connections, and other signs of wear, corrosion or overloading.
Check for loose or missing components, deterioration, proper lubrication, and adjustment.
Check for worn hinge pin, latch pin and latch lock pin. These may inhibit proper closing of the door and latch lock engagement.
Check for proper operation of Latch Stop mechanism. The Latch should not stop against the door when closed but have no more than ¼" of standoff from the door.
Check springs for damage, deformation and lack of tension.
Check link block bolts for nuts and cotter pins.
Lubricate the elevator regularly during usage and storage to prevent corrosion. Use an extreme pressure, multi-purpose, lithium base grease of No. 1 or No. 2 consistency or a lubricant that meets MIL-SPEC-A907E.
**When greasing of pins make sure to pump grease until it comes out of both ends.**
Periodic Actions/Examinations Chart
We recommend to maintain the elevator as prescribed below in the periodic Actions/Examinations chart.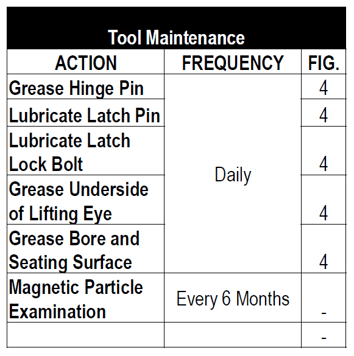 6 Month Inspections
Every 6 months a full NDT (Non-Destructive Testing) inspection of all primary-load carrying components should be performed as defined by the manufacture, in addition to the daily checks specified above.
Replacement Parts
Only KET manufactured parts should be used on KET Elevators.
Upon noticing damaged parts, you should contact Keystone to talk with a sales rep. to discuss and order the proper parts.
It is important to remember that a simple routine visual inspection can end up saving your rig hundreds of thousands of dollars throughout its lifetime, and most importantly help you to keep your team safe.
Re-certification of Side Door SLX Series Elevators
The purpose of re-certification is to verify and document that the equipment's condition and properties are within specified acceptance criteria and requirements stipulated in recognized codes and standards.
Verification Process
The verification process documents the steps performed to re-certify the equipment, and are based on evidence that it is capable of operating as intended.
Why Re-certify Your Elevator?
Re-certification of your elevator is not only good thing to do to ensure the continuity of your daily operations and employee safety, but it can also assist you in preventing legal prosecution in case of an accident.
You should speak to the manufacturer of your elevator to get their recommended re-certification timeline and details regarding the process.
Keystone's Side Door SLX Series Elevators
Keystone SLX-Series Side Door Elevators are load rated at 65, 150, 250, and 350-tons and come in sizes from 3 1/2" – 20". The ears on the SLX 150, 250, and 350-ton are designed so the elevator can rotate freely in the bails when used for picking up or laying down pipe.
We design and precision-machine all of our elevators to meet and exceed all API Standards, with KET and the API monogram stamped on our equipment, you can be sure you are getting high-grade equipment at a competitive price, made in the USA.
Upon purchase, customers receive proof of load test, MPI, and material and heat-treatment certifications included with their data packets.
Keystone's Drilling Elevators
KET is a leading manufacturer of Drill Pipe Elevators. We design and precision-machine all of our elevators to meet and exceed API Standards, with KET and the API monogram stamped on our equipment, you can be sure you are getting high-grade equipment at a competitive price, made in the USA.
KET's full elevator line includes
Want to learn more about
Keystone's Side Door SLX Series Drilling Elevators or Replacement Parts?
---
Keystone Energy Tools is a manufacturer with over fifty years of combined experience in designing, manufacturing, and delivering high-quality oilfield tools, including elevators, slips, dies and inserts, tongs dies, safety clamps, stabbing guides, drill pipe float valves, baffle plates, float valve pullers, rotating mouseholes, and tong blocks.
By using the latest in 3D modeling for product design and by staying current with the rapid advances in manufacturing technology and quality-assurance standards, Keystone is able to manufacture and produce the most reliable products on the market today.